Red Hat announced the beta release of Red Hat Enterprise Linux 9 in the blog post What's new in Red Hat Enterprise Linux 9 Beta on 3 November 2021.
Let's have a look at some facts about the beta:

Official Documentation
Press and forum links
Getting Started
The easiest way to get the RHEL 9 Beta is to sign up for the no-cost developer program. Once done you can download a QCOW image, Boot ISO or Binary DVD from the Red Hat portal by clicking on the Downloads link in the top bar, and first selecting Red Hat Enterprise Linux 8. On the following page change the 'product variant' to 'Red Hat Enterprise Linux for x86_64 Beta' and the page should refresh with '9.0 Beta (latest)'.
Alternatively, you can follow this link: No-cost RHEL for developers subscription
Updates
Be aware that as of 16 January 2022, Red Hat have published three dates sets of ISOs. One with a modification date of 30 October 2021, one with a modification date of 8 December 2021 (labelled Update 1) and another with a modification date of 11 January 2022 (labelled Update 2). You will most likely want the most up to date version. (Note: that the link on the developers website wasn't updated for update 1 or 2 when I visited on 13 January)
However, one nice surprise is that if you installed an earlier release (I installed update 1) and registered it with Red Hat, you will be able to receive the updates.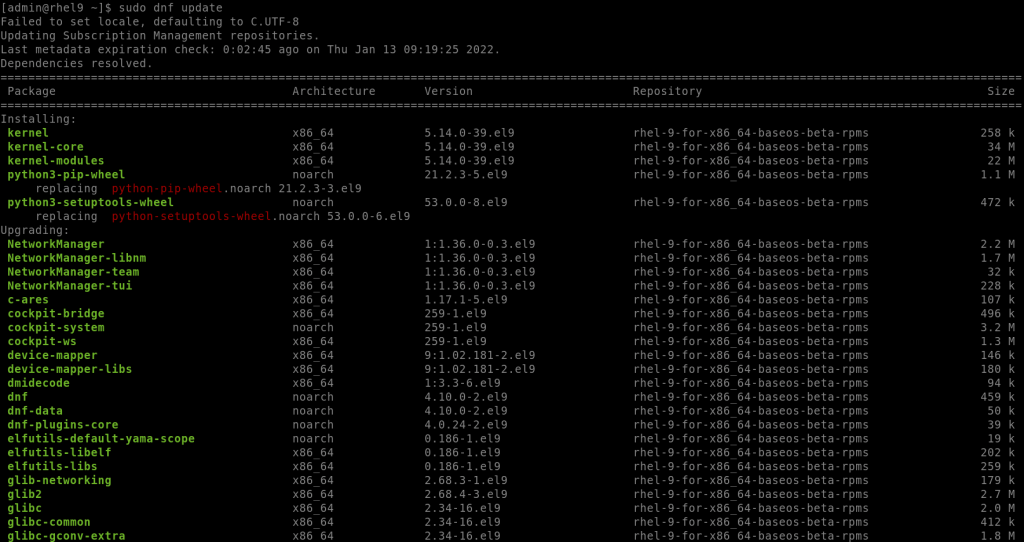 Note that these updates are just package updates rather than formal 'errata' with Security, Bugfix and Enhancement classifications.
Significant Changes
Let's take a look at some of the more significant changes that enterprises may need to take into account when deploying RHEL 9.
SSH root logins
By default logging in as root with a password over SSH is disabled. This is a good security measure and helps prevent brute-force attacks. Best practice is to create an admin user with sudo privileges at install time and use that. If root login via SSH is required, an SSH key-pair could be used. If you need to revert to the previous behavior and allow root password, this can be enabled as follows (from this link):
%post
echo "PermitRootLogin yes" > /etc/ssh/sshd_config.d/01-permitrootlogin.conf
%end
Satellite registration and subscription manager
The rhsm command can be used within a kickstart file to register the server to the Red Hat Content Delivery Network (CDN) or a Red Hat Satellite server. To see the list of options that can be used with rhsm see Performing an advanced RHEL installation. Most organisations will probably want to use a combination like this:
rhsm --organization=XXX --activation-key=XXX --connect-to-insights --proxy=proxy.example.com:8080 --server-hostname=satellite.example.com
Subscription manager is updated so that you can now set the addons, role, service level and so on in one command.
[root@rhel9 ~]# subscription-manager --help | grep Deprecated
  addons         Deprecated, see 'syspurpose'
  role           Deprecated, see 'syspurpose'
  service-level  Deprecated, see 'syspurpose'
  usage          Deprecated, see 'syspurpose'

[root@rhel9 ~]# subscription-manager syspurpose --help 
Syspurpose submodules:
  
    addons              Show or modify the system purpose addons setting
    role                Show or modify the system purpose role setting
    service-level       Show or modify the system purpose service-level setting
    usage               Show or modify the system purpose usage setting
So with the combination of rhsm and an activation key or using the subscription-manager command in a kickstart file, there are a couple of options to registering your server with the correct subscription entitlements.
Network Scripts
The old network-scripts package has been removed (it was deprecated in the RHEL 8) which means you'll not find anything in the /etc/sysconfig/network-scripts directory:
[root@rhel9 ~]# cd /etc/sysconfig/network-scripts/
[root@rhel9 network-scripts]# ls -altr
total 0
drwxr-xr-x. 2 root root   6 Dec 16 08:04 .
drwxr-xr-x. 3 root root 236 Jan 13 09:29 ..
This is probably the biggest change for admins if they've been relying on the legacy scripts to date.
2038 Support
It's very likely that servers built in 2022 could still be around in 2038 (even if they are unsupported). As such, ext4 filesystems can now be created which support timestamps beyond the year 2038 – see Year 2038 problem.
mailx had been replaced by s-nail
mailx has been around for a very long time but is no longer being maintained upstream. mailx can be a really handy tool in the sysadmin toolbox for sending emails in scripts. 9 mail/mailx command examples to send emails from command line on Linux has some examples of where mailx can be useful. The replacement utility in RHEL 9 is s-nail.
Red Hat Satellite support
The following thread details an issue one user has with the RHEL 9 Beta and Red Hat Satellite 6.10.
Desktop Backgrounds
The RHEL 9 Beta does not come with any Red Hat branded backgrounds by default. However, there are plans to include them as detailed in these links:
Third Party Compatibility
EPEL 9
EPEL 9 (Extra Packages for Enterprise Linux) is now available.
dnf install https://dl.fedoraproject.org/pub/epel/epel-release-latest-9.noarch.rpm
For additional information, see EPEL – Fedora Project Wiki
Cobbler
There is a Cobbler Pull Request 2894 to add support for RHEL 9 in cobbler.